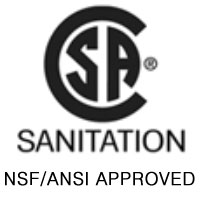 Main Content in Certificate – Certificate of Compliance – Certificate: 80016476 – Master Contract: 300143
Millions of people take the safety of their food, water and consumer products for granted on a daily basis. Why? Because of three letters: NSF. NSF certification is your key to making sure that the products you use meet strict standards for public health protection.
All of our machinery are NSF certified. We also offer certification to customers which assures suppliers, retailers, regulators and consumers that an independent organization has reviewed a product's manufacturing process and determined that the product complies with specific standards for safety, quality, sustainability or performance.